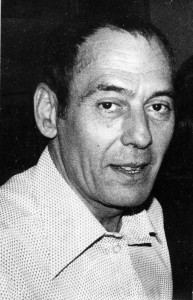 Val Munteanu (1927-1996), one of the best book illustrators of his time, has started his career as a cartoonist. In only ten years he achieved international acknowledgement and, in creating for Romanian and classical European literature, became one of the most internationally respected illustrator of his generation.
Autodidact, he distinguishes himself not only by the style of his drawings, but also by the esthetics and harmony with which he managed to dynamically construct his pieces.
The artist participates, starting 1952, in a series of international book and graphics exhibitions and contests, winning his first awards (Italy 1958, Canada 1959, Germany-Berlin, 1960 and 1961)
Beginning of the '60s he concentrates mainly on book illustration and his first successes do not late to arrive: "Stories of Canterbury" by Geoffrey Chaucer 1964;
"Gargantua and Pantagruel" of Rablais,1969; "Till Owelglass" by Charles De Coster, 1970; "Don Quijote" by Cervantes, 1975; "Pinocchio" by Carlo Collodi,1975; "The Adventures of Tartarin of Tarascon" by Alphonse Dadet, 1978; "Fairy Tales" by Charles Perrault, 1983 etc.
With an impressing elegance he succeeded to add a personal touch to the art of story telling.
This is, of course, best seen in illustrations of Romanian stories and legends.
The number of Romanian stories illustrated by Val Munteanu covers a large palette, awarded with dozens of international prizes: "The Sun and the Moon" – Romanian folk tales, 1966; "Eternal Life and Everlasting Youth", 1972; "Stories around the Chess Game", 1980; "Romanian Proverbs", "The Most Beautiful Tales in the World!" two volumes, 1978 etc.
And the above are only the most representative ones, a melting pot for the art of costume, ethnicity and reversed glass painting.
Val Munteanu's art is widely recognized and awarded by the internatioanl press and critics community
• Gold and Silver Medal at I.B.A.'s Leipzig, Germany 1965,1971,1977,1982
• Graphics Award, Bologna, Italy 1968
• The Most Beautiful Books in the World, Moscow, Russia 1970, 1975
• Honorary Diploma at "Aigle D'Or" Nice, France 1969
• Golden Plaque Bratislava, Slovakia 1979,1982
• and many others
On this site you will be able to admire some of his work.
If you want to know more about Val Munteanu and his life's creation and maybe contribute to the valorization of his Romanian and international tales, stories and legends illustrations, just CONTACT US.